20th July


21st July

4th Aug

11th Aug
-----

Registration opens on 10th June
Registration closes on 30th June
Click the links above for more info and registration!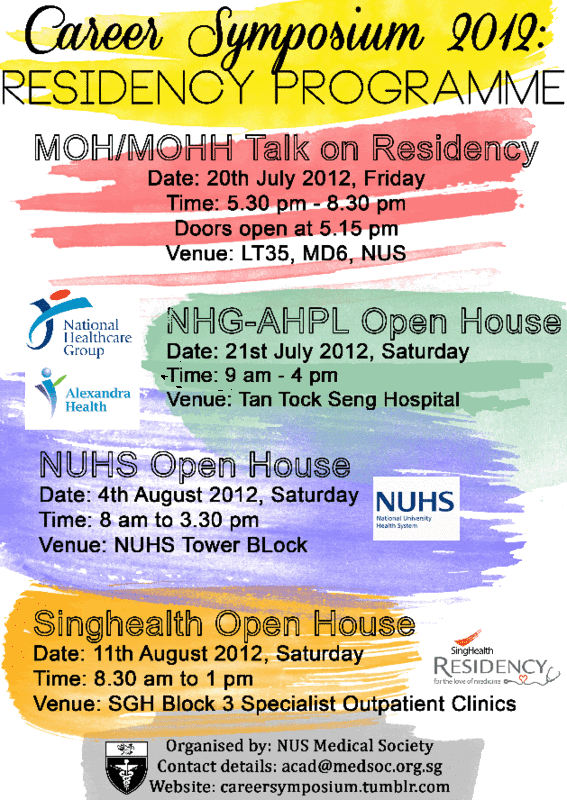 Event Poster (Click to enlarge)
MOH Talk on Residency
What will the talk include?
MOH TALK ON RESIDENCY

The MOH/MOHH Talk kick-starts Career Symposium 2012 by giving students an overview of the residency programme before the individual Supporting Institutions (SIs) hold their Open Houses

Topics that will be covered are:

- Overview of the residency programme
- Application process
- Interview and matching process

There will be a Q&A session after the talk for any queries you might have with regards to the residency programme

SHARING SESSION BY JUNIOR DOCTORS

Representatives from the House/Medical Officer track and Residency Programme will be sharing about their various experiences in the two different tracks. Having gone through the different programmes themselves, these junior doctors are in the best position to give advice about the pros and cons of each track.
Details
Date: 20th July 2012 (Friday)
Venue: LT 35, MD6, NUS
Time: 5.30pm – 8.30pm
The timetable of events is as follows: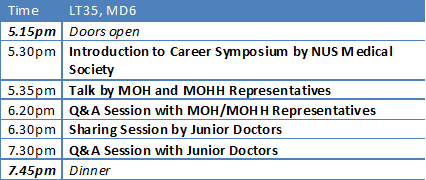 Dinner will be provided and speakers are invited to mingle with you during dinner, so that you may pose them any of your questions that you are not comfortable with sharing during the Q&A sessions.
Useful Links
Visit the MOHH website for more information on the Residency Programme: www.physician.mohh.com.sg/residency
Speakers
Dr Chan Zhao Wang Jonathan
PGY1 Resident
Emergency Medicine, NUHS
Dr Gao Yujia
PGY2 Resident
General Surgery, NUHS
Dr Jonathon Kwong
House Officer
General Surgery, TTSH
Dr Lai Yusheng Keefe
Medical Officer
Radiology, SGH